Careful, it might bite!
Our last Eastern Canebrake rattlesnake skin that we've been saving for the last few years after our East Coast resource for California-legal rattlesnake skins retired.  Looking through our inventory of exotics recently, I thought: "what the heck, let's go ahead and turn it into a guitar strap!"
For your consideration is a our genuine rattlesnake Durango-Suave guitar strap.  Backed with two layers of our buttery-soft "suave" leather, it's a one-of-a-kind guitar strap that will turn heads.  The exquisitely detailed scale pattern and coloration are natural to this skin.  Blues, Country, Rock, Funk?  It all sounds (& looks) good with a little extra swampy-snakey vibe.
We're offering this Rattlesnake Durango-Suave guitar strap for $219 plus shipping.  If you'd like to purchase this strap you will need to contact us directly either via phone (626-791-4995) or email.  First-come, first-serve.  Don't miss out and get snake-bit!
Update Aug. 7th: congrats to our customer Lon M. in Kansas for snapping up this incredible strap.  Enjoy it, Lon!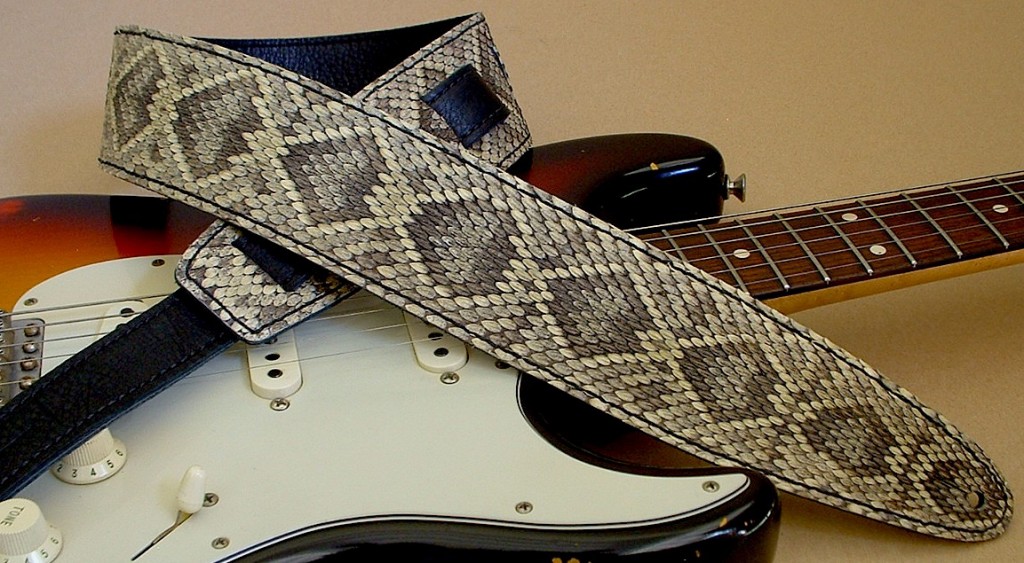 El Dorado Guitar Accessories
Average rating:
1 reviews
Aug 13, 2013
I just received the new Rattlesnake Guitar Strap..........Fantastic and beautiful. A work of art that is also so comfortable, just like my other El Dorado straps. Thanks, Bill