El Dorado guitar straps are so beautiful they've finally made it into a museum. Heh, heh, just kidding, sort of…
Actually, El Dorado leather guitar straps will be available for sale in the gift shop of Indianapolis' Eiteljorg Museum, as part of their new exhibition: "Guitars! From Roundups to Rockers".
Featuring over 100 iconic guitars from some of the most influential names in music: Woody Guthrie, Buddy Holly, Jimi Hendrix, Charlie Christian, and more.
If you live anywhere near the Indianapolis area, or are planning a trip there, you don't want to miss this show!
http://www.eiteljorg.org/explore/exhibitions/guitars!-roundups-to-rockers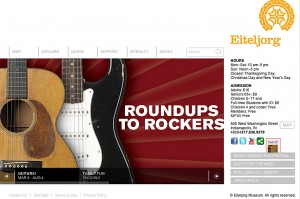 El Dorado Guitar Accessories
Average rating:
0 reviews